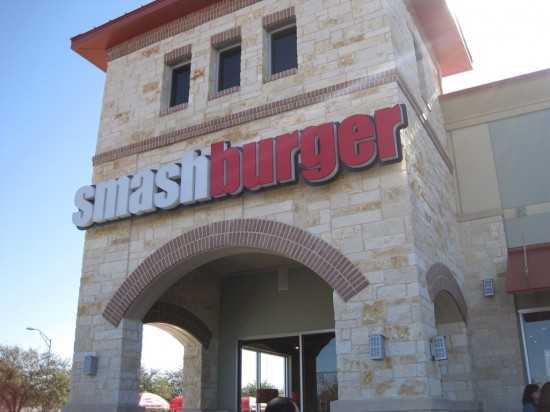 This post is hot and fresh just like the newest Smashburger in San Antonio on Potranco near 151. Opening to the masses today, I was luckily invited to a sneak peak lunch yesterday and sized the spanking new burger place up.
I've definity heard some of the buzz around Smashburger, a clever franchise that has the support of a well made marketing campaign that is hip and exciting. But all the hype could be another false fame to claim. I needed to see if the burger fulfilled the design. So yesterday for lunch i went to smash me some tasty, and I was not disappointed.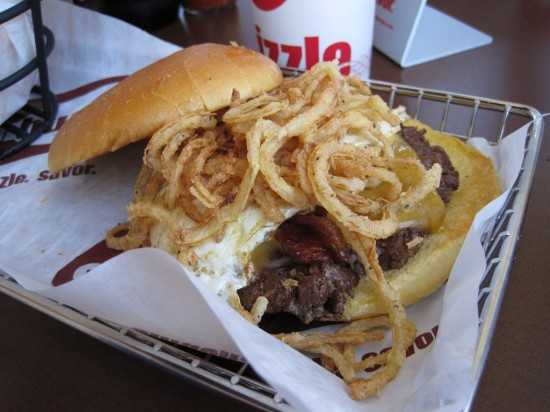 Ordering the BBQ bacon and cheese burger on an egg bun, and deviously adding a fried egg on it, I stared the cashier in the eye and added a Rootbeer float to my order. This was going to be a big lunch. Smash fries on the side and all I had to do was wait patiently for my order to arrive. The general manager, Toby, was kind enough to help with any burger questions and informed me of the reasoning behind the egg bun. Apparently, the burgers are so delectably juicy that the egg bun is necessary to help embrace those juices and insure that guests are able to savor every flavor these burgers have to offer.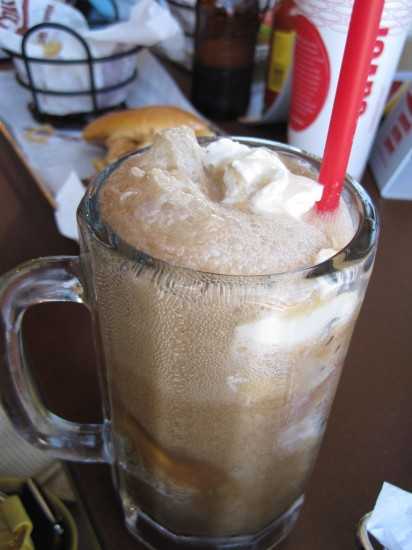 My rootbeer float was a scrumptious old school concoction that featured bottled IBC rootbeer and a pretty creamy and smooth vanilla ice cream. Comrads at the table who ordered the chocolate shake on the menu were slightly disappointed in the stingy use of the chocolate syrup in said shakes. Some beer and burger people will be pleased to know that Smash serves beer and wine with a bucket of 4 beers coming in at $9.99, pretty fair deal if I do say so myself. But now the main event.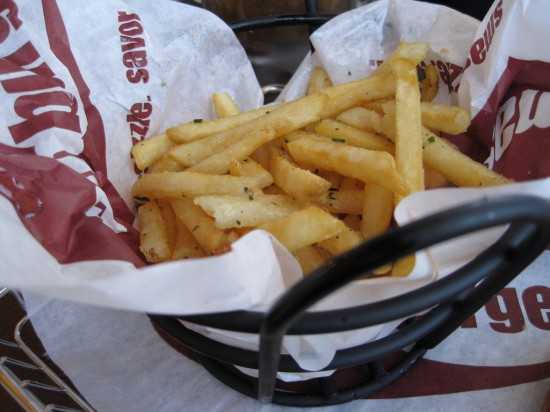 My BBQ burger did not disappoint the hype. The egg was perfectly fried, the crispy onion straws swimming in the BBQ sauce, and that extra sexy applewood bacon all contributed to an amazing combination. Although, if you prefer your bacon crispy I suggest you request that at the register. Also, the BBQ sauce on their burgers is nothing short of amazing. I definitely recommend this burger to everyone! I cannot wait to go back and try any of the other exciting burgers on the menu. I will say that the smashfries are pretty tasty, however are seasoned a little too heavy in some areas. The regular fries are a safer bet, lightly salted and a better quality version of America's favorite fry. Beside those small details, the patty, the bun and the BBQ sauce make an incredible experience for your taste buds. The excitement and energy of the hosts make this place a new establishment that wants to please their guests. Although perhaps a little too eager, I'm sure that was a first day jitters kind of deal and will ease up.
Smashburger I give you an impressive 8.5 and can't wait to return to you soon. Thanks everyone for a great experience and the free meal! Hugs, kisses, and all my <3, EAT IT!
SmashBurger
8802 Potranco Road
San Antonio, Texas 78245