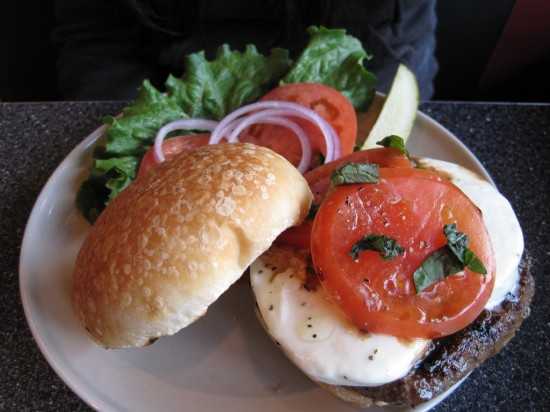 Gourmet burgers seems almost oxymoronic.  Do i have to put a tie on for this? Is my burger putting on airs? Why is my burger of a better social class than me? My voyage to the Gourmet Burger Grill off of I-10 and Huebner  in San Antonio forced me to face the idea that my burger should be eaten by Tim Gunn and not by a plebeian such as I. However, one look at the appetizer: Fried Macaroni and Cheese Wedges, and I knew I was probably going to be okay.
The array of options, burger artistry, and plethora of ingredients definitely help you realize what burger ball-game you're in.  They also make you double-take the prices and realize these special ingredients are worth more than your dollar menu burger. Honestly though, Gourmet Burger Grill creates an atmosphere in which guests can be ready to truly enjoy their burger any which way they choose.  Beverage choices include a line-up of some pretty fine beers and some pretty ritzy wines as well as a self-serve soda fountain and tea.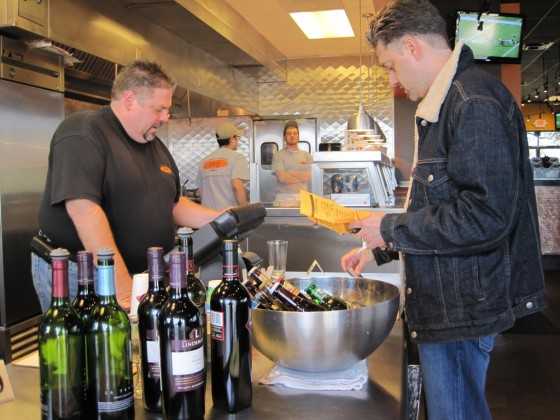 While i did wander in on a pretty easy lull on a Saturday the staff took this as an opportunity to shine! Every member was more than ready to assist us and Chef Mike Davis was on site helping us with a pride that was exciting to see in the man behind my burger.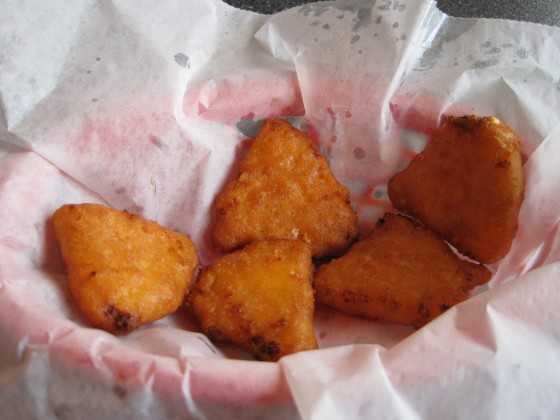 A quick note before the burger: I was impressed with the the macaroni wedges. Love. Love. Love. Dip em in ketchup, or ranch, or honeymustard, or don't. Just definitely give em a try if you're feeling extra chubby! Also the crinkle cut fries were a pretty spectacular tasty and they also offer the healthier and sweeter option of sweet potato fries.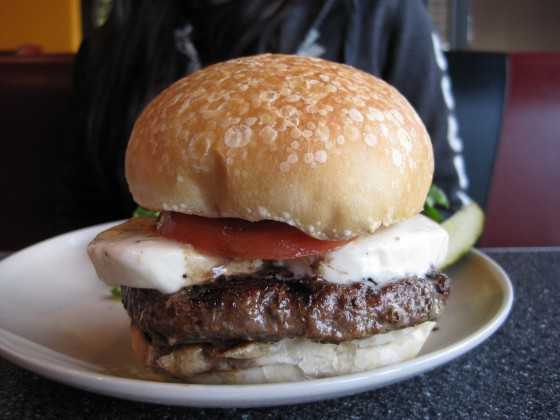 I decided on the Caprese Burger, coincidentally, the same burger as The San Antonio Burger Blogger.  However, our point of view is at odds. I can see how the simplicity of the burger, the somewhat delicateness of the olive oil, fresh basil, and thickly cut and amazingly fresh tomato are an asset.  Simple enough composition to completely compliment the amazing quality of the patty, composed of Certified Angus Beef and fire grilled. Chef Davis did inform us that when ordering at the Gourmet Burger Grill, a well done patty will often lose it's juices, making devourers miss the quality and care in the meat. I had a medium well that was cooked to perfection, juicy and seasoned so well I definitely felt the passion put towards this creation. However, the burger selection I chose, Caprese, was a little too bland for my taste.  The cheese, tomatoes, and basil were fresh and spectacular, but I expect a burger to have a little more attitude.  This burger was a little too uptown new yorker sipping on a cape cod and not enough spizzazz! Other menu items definitely bent the burger norms such as a Crab Cake Burger and an Ahi Tuna Burger. However I must say, my choice, perhaps wrong for myself, left me wishing I had ordered one of those delicious fellows.
I do recommend you give it a try if you have the bank. I trust and believe in what Chef Davis is doing. While I can't wait to return, I definitely have to give the Caprese burger a slightly boring 6.5. With that said Eat It when you feel fancy.
Gourmet Burger Grill
11224 Huebner Rd Suite 206
San Antonio, TX 78230
Phone: 210-558-9200