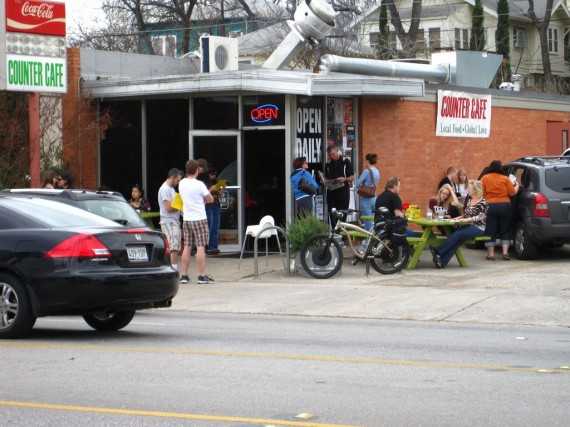 Greetings burgermeisters! Let's address the counter culture revolution, an American symbol of the working man, of coffee and pie, of darn good food being made on a time-seasoned grill.  My Austin burger review comes from a cafe that now inhabits one of Austin's former legendary diners, now simply named, Counter Cafe. And trust me, it's just that, a counter and a few tables, this tiny place open daily from 8am-4pm embodies the hole-in-the-wall-dive-joint entirely.  However tiny, patrons definitely don't mind a wait to try some of the home diner style menu with a very refreshing gourmet twist. This place was brought to my attention by UT student by day, Lauren Miller, and her Aggie boyfriend, Sergio Guerrero, who highly recommended the burger and suggested staying away from the extra $3 bacon.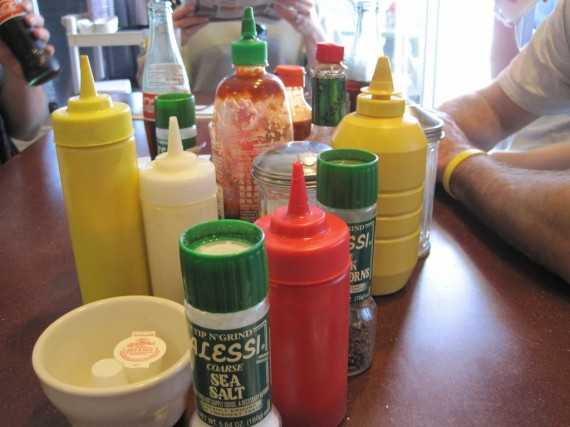 Counter Cafe, right off of Lamar and Sixth (across from Book People), is easy to miss.  But the tiny atmosphere creates an interesting warm feel, sometimes double sitting tables for need of the room (thanks to Austin and Texas hospitality, this wasn't very awkward). Fast-moving and turning tables very quickly the diner definitely gives you an idea of the quick counter culture of Americana. In most restaurants the condiments are kept down to the standard mustard, ketchup, salt, pepper, and napkins always positioned in a clean and organized manner when turning tables.  Counter Cafe moves too fast to worry about these details and while the tables are clean, the array of sirracha, mayo, mustard, coarse sea salt, and ground pepper are all splayed about and ready to be used.
Not thinking twice about it I ordered the burger, sans bacon. My comrade however, a definite sucker for bacon in all its glory, went straight for the nitrate-free three dollar bacon. Ingredients are all natural, organic, and locally sourced when available.  You can order a wheat or white bun, sweet potato fries, cup of soup, seasonal fruit cup, or house salad.  I opted for a wheat bun and sweet potato fries, which Lauren highly recommended. I'll tell you, as tiny as the place is and as gourmet as some of the other menu items are, they sure now how to make a simple, delicious burger.  I was amazed at how well it was cooked, the buttered and toasted bun, the fresh ingredients, and the interesting choice of bibb lettuce.  Pulling the ketchup and mayo from the condiment array and splattering them on the burger made it amazing.  The sweet potato fries had a perfect balance, not too sweet and seasoned with sea salt.  I devoured this baby whole, forced myself to go on to that one last delectable bite.  The Austin burger scene can be proud to add this to repertoire.  Although there was a bit of wait for the burger, you can see there are only two cooks in the kitchen with little more than elbow room. You can also openly see the care put into the food in as quick a manner as possible.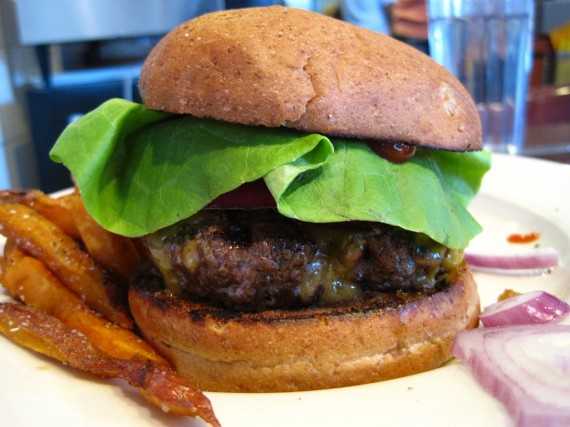 The reviews for this place in Texas Monthly's issue of the 50 best burgers in Texas, Yelp, and the Austin Chronicle praise this little cafe. Going to give this swell joint an 8.5 and insist that you shove it in your mouth and EAT IT.
The Counter Cafe
626 N Lamar Blvd
Austin, TX 78703
(512) 708-8800
Hours: 8AM - 4PM Daily