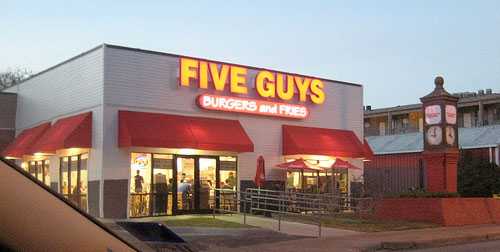 Let's talk about Five Guys Burger and Fries. A burger joint that originated in Arlington, Va back in 1986 has spread across the U.S. and now has over 300 locations in 25 states. Five Guys markets that the establishments do not contain any freezers, fifteen free toppings, making 250,000 possible burger combinations! Five guys recently opened a new location in Austin, Tx. Lauren Miller, a UT student and dance party aficionado, recommended I check the place out, see what the big deal is. So off I went to 3208 Guadalupe St in the ATX to investigate.
With burgers, simplicity is boss! The menu is straight forward. You can get a cheeseburger or a hamburger, little or regular. Little being one patty, regular being two. I went for the Bacon Cheeseburger. And a funny thing happened as i was ordering, i felt a strange and awesome liberation from premeditated burgerdom! I felt as i was saying pickles it was a free for all for any of the other 14 free toppings. So then I said sauteed mushrooms. And then I knew i needed bbq sauce but i wasn't done yet. This burger needed one more somethingdelicious, so green pepper just came out. And that was it, with a Coca Cola as a burger chaser I was ready.
My burger showed up in a brown bag with greasy splotches all over, a good sign. I pretty much ripped opened the foil to find Slagosaurus. Yeah, this guy was so disgustingly handsome I had to name him. Then after the first rather happy bite I had no choice but to continue to make out with the bad boy. Slagosaurus was scrumdiddlyumptious because it was all my idea. The meat was fresh and the quality added to the topping melee. The bun tasted as though they had toasted it on the grill and had a sweet little taste. I have to praise this burger because the cheese alone is defying gravity right before my eyes. The fries, cajun style, were plentiful and tasty. There were so many fries my burger was swimming in them and so was I and we were in love.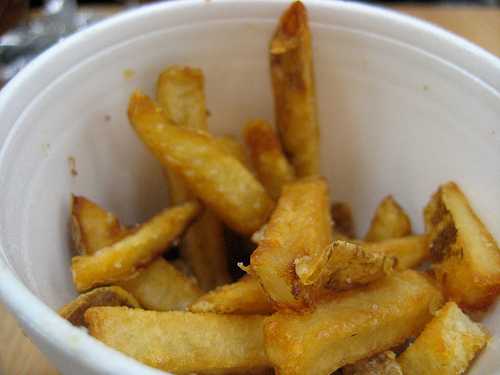 As a strange note, Elijah Wood that web slinging fool also dines at the Five Guys on Guadalupe in Austin. Way to go Indie creepy!
You know what I want you to do: EAT IT and EAT IT HARD.
Five Guys Burgers and Fries
3208 B Guadalupe St
Austin, TX 78703
Tel: 512-452-4300
Stay tuned for next post on another Austin favorite P. Terry's Burger Stand!