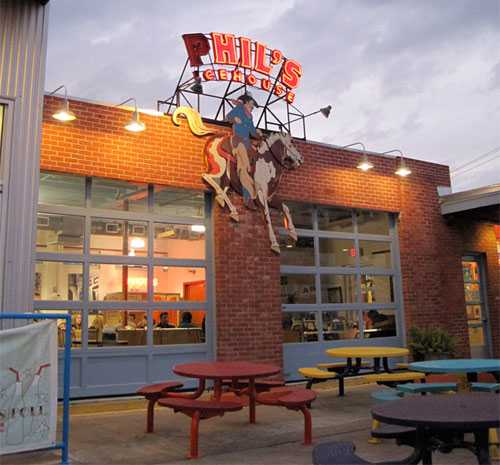 Back with another Austin favorite- Phil's Ice House! Located on Burnet road and attached to an Amy's Ice Cream, this burgery looks extra fun! fun! fun! This is something that definitely continues to be said about the burger and beer place, the kids. On Yelp and Urbanspoon reviewers adore the grub and seem to see the shorter and often cuter patrons of Phil's as a pox on the joint. But, in my eyes, in the season of holidays and cold weather, I found those foreign little people quite a pleasure. One fellow patron dining with me infact had on a pink, glitter tutu skirt. That and knowing that I wasn't the only one dying to finish my burger and rush to the adjoining ice cream stand made me feel less guilty.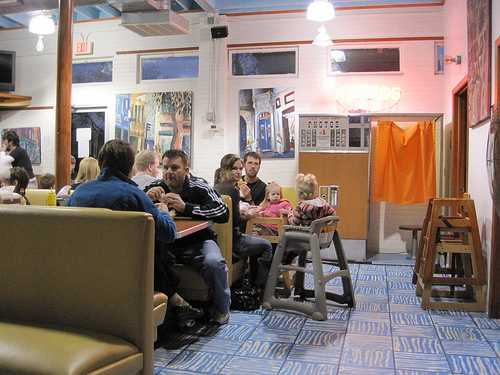 Enough about the visitors, Phil's décor makes it look like a swinging joint. There's a rather interesting playground, had it not been freezing and late, that I would have conquered. The menu has a certain Austin Pizzazz to it with burgers named so the locals can grin and order a burger that hits home in more ways than one. There's beer available ( YES!), there's shakes just over the way (Double YES!) and there are sweet potato fries. Sweet potato fries are much healthier than regular fries and also just a tad sweeter. You can get your basket of fries mixed or just regular or just sweet, your call of course. I decided to order the 78704 Burger, it screamed flavor explosion.
When we went, on New Year's Eve the employees were pretty fun to talk to, even if they were busy serving a full house. Looking for seating was a little rough with all the patrons, and when we settled down to a roomy booth, a family came in that was going to have to split onto two small two seater tables. My friend suggested we move to the two seater table and let the family of five take the booth. A generous but small move, I thought, that would reward us in the end.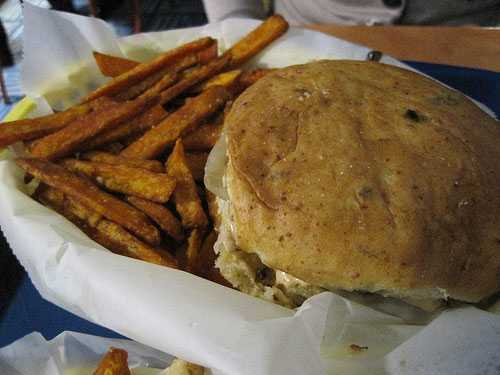 I must say this, I am not a charbroiled fan, but at Phil's Icehouse they seem to have my ticket. This burger was feisty and delicious, he gave me a run for my refill and had me stuffing sweet potato fries into my mouth to put out the tingling fire. This burger is not a five alarmer, but it definetly leaves a flavorful tingle. The avocado, the jalepeno bun, the well placed jalapeno bombs, and monterrey cheese make this burger a winner in my eyes. Word on the street is that the 78704 also fairs well as a chicken sandwich, or unburger. My fries were well toasted and I must admit this was a worthy burger to see 2009 off with.
AND as my comrade and I headed to Amy's after words to indulge our sweet teeth we found that family that we had given the booth to had purchased our dessert for us! It was a rather sweet gesture that made me see what it is about Texas hospitality in Austin that makes it a great capitol city and burger heartland. Thanks once again to that family out there!
And to sum it all up, I <3 Phil's. I can't wait to go back and try anyone of their Austinonian burgers and follow it up on the playground with some Amy's Ice Cream.
I give this burger a very full 8 and say you absolutely have to EAT IT all up!
Phil's Ice House
5620 Burnet Rd
Austin, TX 78756
(512) 524-1212