A real Texas backyard burger is a beautiful thing. Bar-b-ques fire up, the summer heat beats down, and the sweetest sound is patties grilling. My mouth salivates like a trick pony waiting for that sweet patty to come off the grill and land in my belly. At the Longhorn Cafe in San Antonio, TX patrons get to enjoy that great feeling. What greets hot Texans at the door is a long row of ice cold bins filled with soda pops (and for the extremely thirsty patrons, ice cold beer). The sound of the grill is right behind the counter, feet away, and the smell of that delicious patty calls me. I ordered the Provolone Burger and as an appetizer the bean and cheese nachos.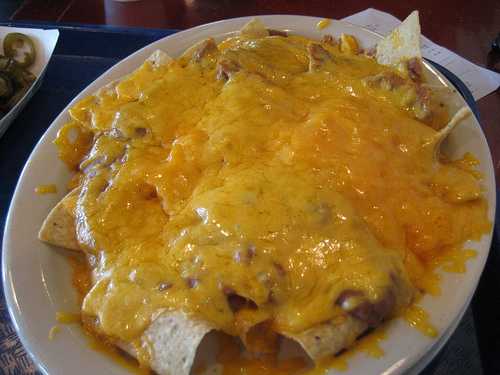 On that note I need to let Cheeseburger lovers know: order the nachos with caution and extreme hunger on your side. These nachos are extremely delicious, doused in a perfect amount of cheese and beans. Try to stop yourself from eating 'em and you'll hate yourself.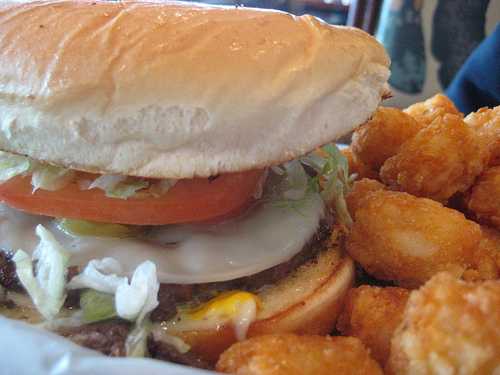 Now the main act. There's nothing exceedingly special about the Provolone Burger. No special sauce, no special topping to enhance the flavors of the yaddayaddaya. Just a burger with a nice slice of provolone cheese. And that's all it needed. The burger was the same idea I've seen over and over again. Only this burger was a little different. All the fresh ingredients, the cool tomatoes, shredded lettuce, and a bun toasted on the grill with all the delicious flavors of the patty just seasoned in it made something different. The meat is packed into a delicious patty that doesn't overwhelm diners and definitely pleases with every bite. There's a poise in the burger, every bite as delicious as the previous and never failing to contain every ingredient. The tots I ordered were exceptionally delicious and I couldn't have asked for a better meal. My only regret is that I didn't eat the whole thing. It would take a a vast empty hunger to take on the Longhorn Cafe's well composed and very filling cheeseburgers. The next time I dine at the Longhorn Cafe I'm showin' up ready to Eat It all and so should you.
Longhorn Cafe Icehouse & Grill
23775 W Ih 10
San Antonio, TX 78257
(210) 698-7766