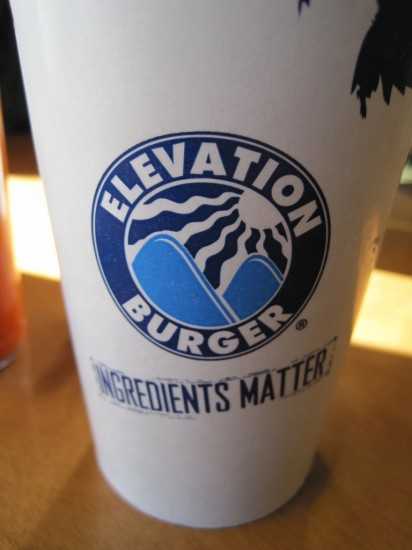 This review is on my first burger of 2010 at the Elevation Burger on Great Hills Trail in Austin, Texas. This burgery is a purpose driven establishment that brings the burger back to the basics: Quality Food.  Elevation takes its business seriously, and burgers are its business. With an organic label on their ingredients and a commitment to the environment that is exhibited in their environmental structure the promise of a delicious burger is there. However, behind all these feel good, green, trendy notions could be a burger that doesn't live up to it's marketing genius, maybe.
My visit on January 1st was one filled with apprehension and high hopes.  The restaurant is located across from the Arboretum, a rather pleasant and moneycentric side of town.  The kind of place where you could market the green good life trends to yuppies and they'd eat it all up.  On my visit I tried to keep an eye on the locals and the staffing, and I was surprised and pleased with both.  This restaurant serves to the conscious Austin burger eater, a patron that believes in a better self as well as a better world in which the way to both are within our grasps. The staff was extremely nice and very helpful with all our burger questions and they seemed genuinely happy to be helping people and working hard. The actual experience of the restaurant was great. But all of that could fall through if the burger didn't deliver.
The wait was decent, considering my burger was being made fresh from meat ground on the premises. When our burgers arrived I saw a perfectly sized burger that had a P. Terry'sesque feel to it.  Infact, the burger does resemble the Austin chain in several ways. Mainly because of the quality, organic seal on the ingredients and the simplicity of the burger.  This burger was amazing.  It was delicious and perfectly sized, not the kind of burger that has your gut evicting other organs for need of space. The patty, the fresh vegetables, the Elevation sauce (not Thousand Island but a sort of creamy tomato concoction), the simply stated bun all compiled an ensemble that made my taste buds fall into that deep burger LOVE. The fries, although were a bit too toasted, were impossible to stop devouring. All in all, my Elevation burger was a great to start to 2010. Environmentally friendly, health conscience, and enjoyable in just about every way possible I'm happy Elevation started my year off.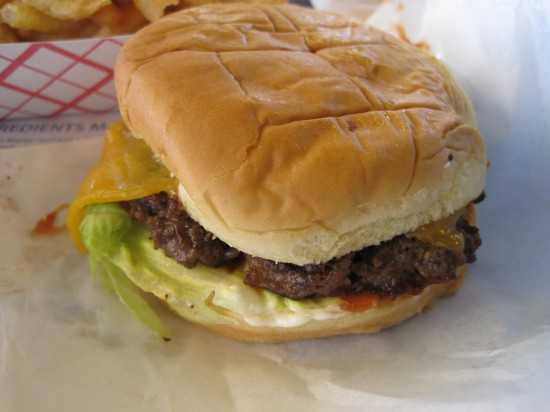 I highly, highly recommend Elevation Burger to anyone looking for a delicious feel good treat. Rated on a scale of 1-10 this burger gets a highly deserved 9 and you absolutely must EAT IT.
Elevation Burger
9828 Great Hills Trail
Austin, TX 78759
(512) 608-4054