I am going to introduce you, if you aren't already familiar, with San Antonio burger royalty. Chris Madrid's. This is a San Antonio right of passage. In this institution you won't find a health loving, better-life burger that will leave you ready to embrace a healthy green future. What you will find is a burger that does not apologize for anything that burgers exist for. Cheese. Meat. Butter-toasted buns. Circumference. Grease. Good God the grease!
Yes, Chris Madrids was omitted from Texas Monthly's 50 Best Burgers in Texas. Yeah, it somewhat goes against my "just right burger-size," what am i talking about, Chris Madrids obliterates that. But what you need to understand is that there is something entirely magical about what the cheese is doing. It's beyond sex, it is cheese globs sblobbing and drobbling all over your sweet little face. If you even make it half way through this beast, you can consider your burger-innocence completely and thoroughly BURGERED. And even if you ever do stop making out with the cheese ( i never did), there's a patty there that never went understated. Made on a grill that has seen its share of San Antonio times, that patty wants you to want it. This place is a staple, a must, a always come back, a best memory for sure.
Originally opened as a burger and taco establishment by a University of Texas Marketing graduate in 1977, the tacos were soon phased out by the awesomeness of the burgers. The menu is pretty simple with six headlining burgers that come in two sizes: regular and MACHO. A beastly chicken sandwich, chalupas, nachos and fries round up the menu with a very inviting bar located on the other side of the restaurant.
I went for the regular Cheddar Cheesy minus the onions. While other members of the burger team pledged an undying loyalty to the Tostada Burger. As you can see, eating this burger isn't a clean event. I was privy to witness my burger comrades eating the Tostada Burger two different ways. The successful method being an approach that treats the burger as a pizza, or perhaps that famous Latin cuisine: Tostada. Kyle Pippin, in a moment of Tostada burger completion ecstasy stated the event was definitely "Intercourse inducing" (weirdly true). While the fries are subpar, I've had encounters with the nachos that are other wordly.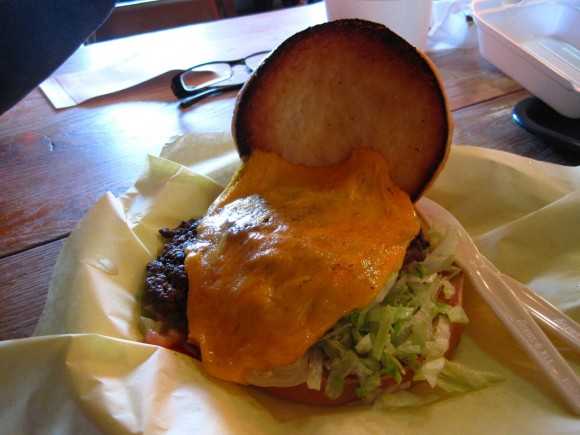 There's always a line. You might always have to have half your party scouting for a table while the other half waits in line and orders. There's an atmosphere that tells you you're eating somewhere that means something to San Antonians. And it does. The burgers do. A section on the Chris Madrid's site allows for personal stories. There you'll find 98 stories of testament to the institution. You need to go eat at Chris Madrids. EAT IT- because it's a 9. Eat it 'cause your arteries want it.
Chris Madrid's Nachos and Burgers
1900 Blanco Rd
San Antonio, TX 78212