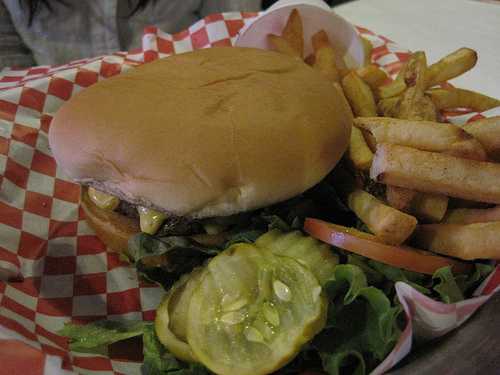 I did it, meatandcheesebetweentwobunslovers, I am going to, after most likely much too long, graduate from Texas State University! GO BOBCATS! Moving on, to celebrate this moment I headed to Bigz Burger Joint right off of 1604 and Huebner here in San Antonio, Texas. This burger barn on the side of the way arouses mouth juices from the parking lot. There's an aroma of tasty that made me want to run to the door.
At Bigz the patties are a ½ lb, which is decently sized. And the cheeses offered are American, Cheddar, Pepper Jack, Swiss, and Blue Cheese. Certain toppings cost extra like beer braised onions, avocado, pineapple, etc. I went for a single knowing it'd be filling. I went with American cheese because I was feeling pretty classic, until I saw that you can "Make it Dirty," and then I did! At Bigz Burger Joint "making it dirty" means they'll fry an egg and slap that sexy baby on your burger. Who could say no to that?
Sipping on my Dr. Pepper I enjoyed the barnesque décor and fair-like seating. There's outdoor seating available during permitting weather and what seemed to be a pretty rad Party Barn as well as a small basketball court. This place seemed to be on the up and up. Then I got my burger, after I accidentally tried to steal this guy Clayton's burger (sorry! and thanks for being cool about it), and things got juicy. And disappointing. Bigz does toast their buns, offer some fresh vegetable toppings, and fry a pretty mean egg. Bigz does NOT seem to season their patty much. Everything around the area was pretty swell, but the main act was pretty lame. Soooooo, what's that about Bigz? Although, I did hear the Applewood Bacon is pretty tasty and "making it dirty" is only an extra dollar, I'm gonna need some burger seasoning on my meat (that's what he said?)
Do I recommend Bigz, meh. The atmosphere is pretty cool and the pricing is pretty pretty decent, but it was pretty cold in that huge space. It's not my favorite and I probably won't be back for awhile, I'll just try and "make it dirty" elsewhere. EAT IT if you must, sigh.
Big'z Burger Joint
2303 N. Loop 1604 W.
San Antonio, Texas 78258